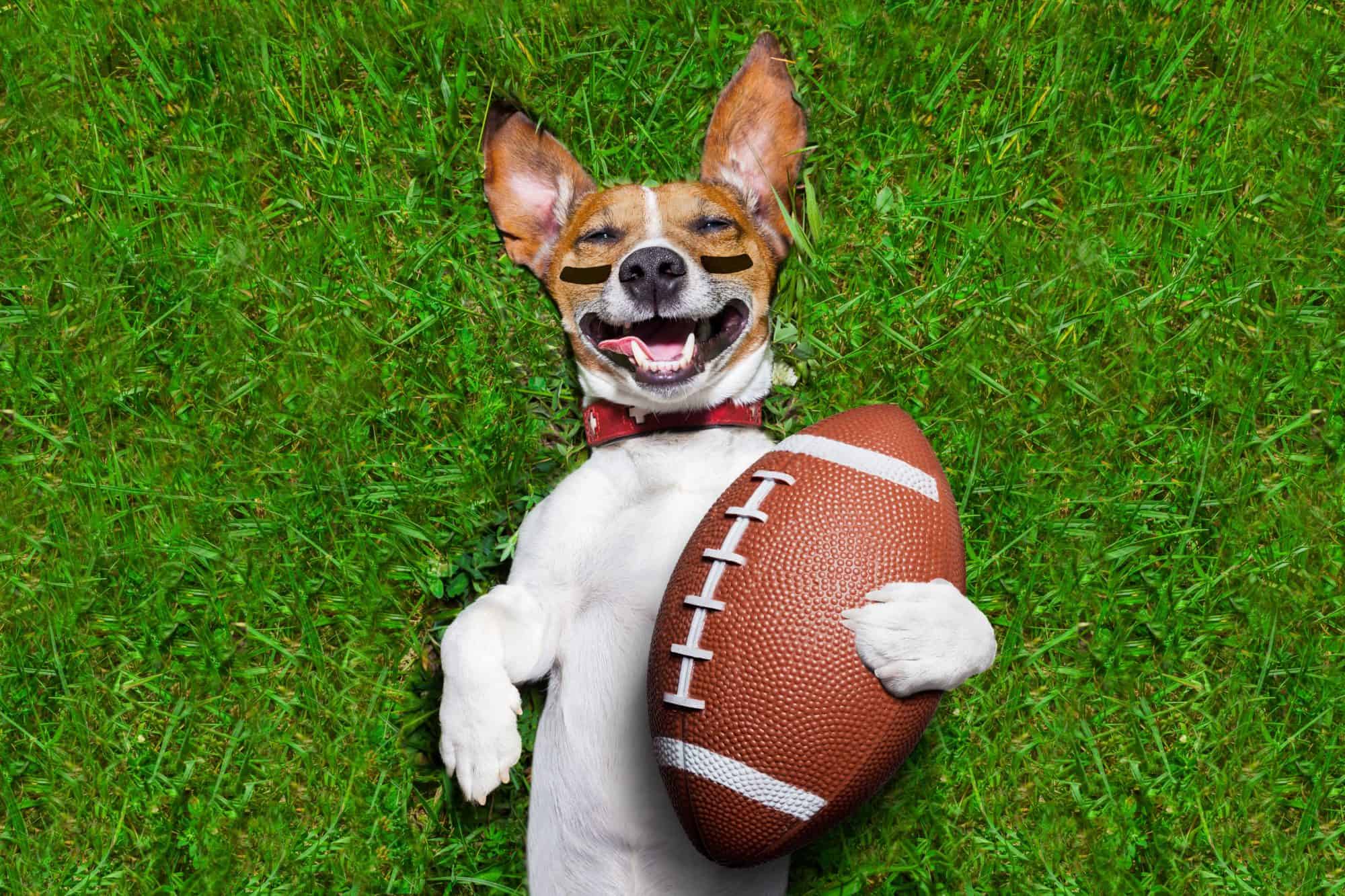 Super Bowl Sunday is a day to celebrate, watch great football, and snack on delicious food. With the big game coming up, it's a good time to think about how to make the day more enjoyable for your dog.
Consider Your Pooch's Needs When Having Guests in Your Home
The Super Bowl is a great occasion to gather with family and friends. If you're hosting a party in your home, consider your dog's needs as you make your plans.
Help prevent behavioral issues by keeping your dog stress-free and comfortable. Dogs are social animals and can become anxious or jealous when left out of the activity and fun. But if your dog doesn't like crowds or too much noise, they may not want to be in the same room as people watching football. If this is the case, put them in another room where they won't feel stressed by all the commotion.
If you have young children at the party, supervise them closely. Children sometimes need help understanding how to interact appropriately and safely with dogs.
It's important to make sure everyone knows not to give your dog any food while they are visiting. Some foods can be dangerous for dogs—even small amounts could cause an upset stomach or worse.
Plan some physical activity before or after the party begins so your dog can work off excess energy before meeting your guests. Take them for a walk around the neighborhood, or let them play in a fenced yard if you have one available.
Outfit Your Dog for the Game
Plenty of pet clothing options are available online and in stores to help your pup dress up like a pro. You can find jerseys and other sports-themed outfits at many stores, but if you want something more unique or original, consider making your own. You can also visit sites like Etsy for handmade items made by other pet owners.
For extra fun, give your dog a football toy to play with. Look for one made of rubber material that's soft yet durable enough to stand up to chewing. Your dog will continue enjoying this toy long after football season.
Serve Up Some Canine-Friendly Treats
Food is a big attraction at any Super Bowl party, but most of it's too high in fat or sugar to be healthy to share with your best furry friend. So what should you offer your dog on the day of the big game?
Here are some tasty-yet-healthy picks:
Chicken Jerky: Full Moon makes all-natural human-grade chicken jerky from real, all-natural chicken breast. It's a great way to give your dog a tasty protein boost on the day of the big game.
Blue Buffalo Wilderness Trail Treats: Blue Buffalo makes dog treats that are grain free and loaded with protein from real meat or fish and antioxidants from fruits and vegetables.
Greenies: Greenies are made from natural ingredients like broccoli and spinach that contain vitamins and minerals to help promote healthy teeth and gums. They come in sizes ranging from Teeny to Large to suit any pup.
Give Your Dog Special Attention at Halftime
Take your dog for a walk or run during the halftime break in the gridiron action. If it's too cold outside, play a game of fetch with indoor-friendly toys. Or play a game of hide and seek: Hide treats around the house or a designated area and see if your dog can find them all.
Your dog is a family member, and Including them in parties and events can be fun for everyone. Just remember to consider your pet's needs and temperament as you plan your guest list and activities.
If you have questions about your dog's health and wellness, call us at (530) 533-7513. Our knowledgeable, friendly team is always here for you and your pet at Oroville Animal Health Center.